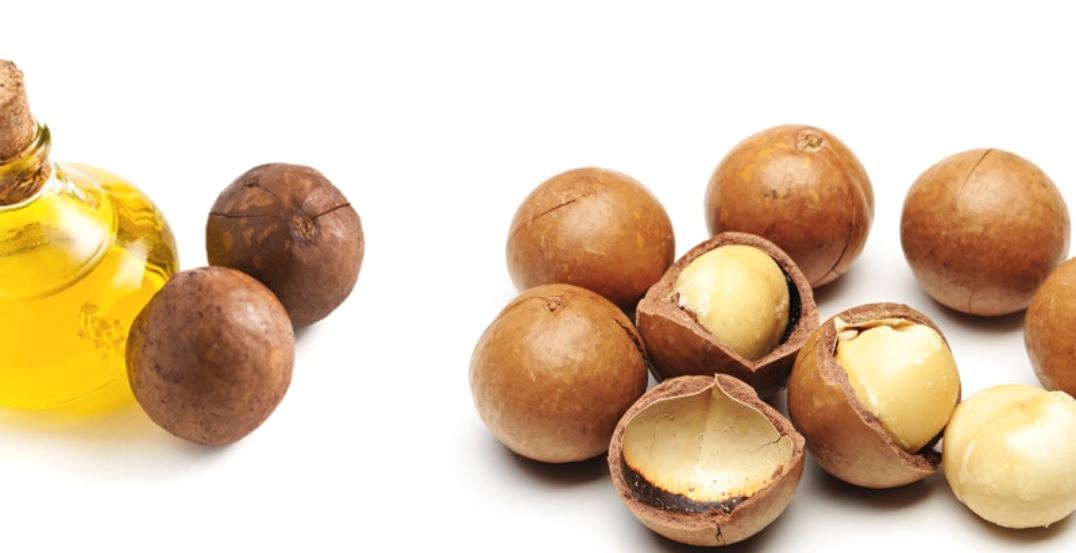 According to some, macadamia oil can calm, smooth, and add shine to hair when topically applied.
Macadamia oil comes from the nuts of macadamia trees. It has a clear, light yellow appearance. Unlike coconut oil, it's liquid at room temperature.
Macadamia oil is rich in fatty acids and potassium. Its concentration of palmitoleic acid, in particular, makes it a popular ingredient in cosmetic products that are meant to smooth skin and hair.
Macadamia oil is popular in its pure, cold-pressed form as a cooking oil and as a hair-styling product. Macadamia oil is also found in hair masks, skin lotions, and face creams.
Macadamia oil can strengthen hair
Macadamia oil penetrates hair more efficiently than some other oils, like mineral oil. Mineral oil can build up on your scalp. Over time, it can make your hair feel heavier and look duller.
But vegetable and fruit oils (for example, coconut oil) have been found to penetrate the hair follicles more effectively. Macadamia oil shares this property.
When macadamia oil binds to the hair shaft and infuses it with fatty acids, your hair follicles may be left stronger and healthier. Macadamia oil also contains antioxidants, which help hair to recover from environmental exposure to things like pollutants in the air.
Macadamia oil can smooth hair
The emollient qualities of macadamia oil can help smooth hair, giving it a shinier appearance. Anecdotally, hair that's treated daily with macadamia oil may hold its sheen and become glossier over time.
Macadamia oil can make curly hair more manageable
Macadamia oil is especially popular for curly hair. Curly hair types can be especially vulnerable to damage from the environment. Curly hair that's dried out and damaged is very hard to style and can break easily.
But macadamia oil helps restore moisture to the hair shaft, locks it in, and adds natural protein to the hair. Curly hair that's properly moisturized is easier to untangle and style.
Macadamia oil is a safe ingredient for almost everyone to use on their hair.
If you're allergic to tree nuts, it's possible that you'll have an allergic reaction to macadamia oil. However, the oil contains less of the tree nut proteins that trigger a reaction, so there's also a chance that you won't react to it.
Otherwise, using macadamia oil for long-term hair treatment shouldn't cause problems with your hair or scalp.
If you have a history of allergies or are concerned about an allergic reaction to macadamia oil, do a patch test of the oil on your skin before trying a full application. Put a small amount on a dime-sized spot on the inside of your arm. If there's no reaction in 24 hours, it should be safe to use.
If you do develop allergy symptoms, discontinue use.
Medically reviewed by Debra Rose Wilson, PhD, MSN, RN, IBCLC, AHN-BC, CHT on May 4, 2018 — Written by Kathryn Watson
Source https://www.healthline.com/health/macadamia-oil-for-hair